Using visual and graphics elements is one of the requirements for successful content nowadays. With the majority of people in the world giving up their privacy to make their online presence, the number of content increases overwhelmingly every single day.
In 2021, the Internet was swarmed by billions of visual content, and it caused tough competition to make content that stands out.
One of the ways of getting your content to stand out is by using motion to grab people's attention. You can use many kinds of motion graphics content such as video, animated GIFs, and one of the new trends is animated infographics.
There are many great tools that you can download to get creative and design your own motion graphic content. You can opt to buy premium tools with a truckload of features like Adobe After Effects, Adobe Premiere Pro, Cinema 4d, or Final Cut (for Apple users).
However, you should take a look at free animation tools such as Animaker and Moovly that will serve you well if you want to use animation purely.
Now, what can you do to make great content using motion graphics? Let's dive in.
#1. Add a Proper Background Music
The proper choice of background music, audio, and sound effects can help to create better nuance for your video. Although most of the time, social media videos are designed to be watchable even without sound, the addition of background music is always nice to have when viewers decide to unmute a video.
Check out this example by Tasty. The text overlay definitely helps people who want to watch their videos in silence, but the cheerful music adds more taste (pun intended) to the video.
#2. Optimize For Mobile Viewing
Almost every popular digital platform and software has some sort of 'mobile' version these days, especially social media platforms. In fact, 75.8% of mobile users in the United States access Facebook monthly. The amount of traffic generated from mobile is borderline ridiculous.
That means for your next video project. You should render out two versions: one for the desktop browsers (16:9 ratio) and the other for mobile users (1:1 ratio). That way, you have a sweet horizontal video to put in your blog post and a screen-filling video for people who follow you on Facebook, Twitter, or Instagram.
Creating a square video for social media and horizontal video for your blog is not some sort of policy or terms of the web that you have to agree with – but the data suggest that they DO work better at engaging audiences from respective groups. Research by buffer found out that square videos trample horizontal videos on social media.
#3. Create a Useful and Evergreen Content
As an animation studio that has created thousands of explainer videos, we have our fair share of production hours to know which videos are the best and which ones are just meh. Videos that have something viewers could learn about, like tutorials, always make a significant impact.
Get this: just because you run a business, it doesn't mean your videos have to be all sales and business-oriented. You can educate your audience about stuff like the production parts that make your product better than others or how they should use your products for the best results.
Video Marketing Checklist Infographic
If you're running a video marketing campaign, here's the definitive video marketing checklist you can emulate: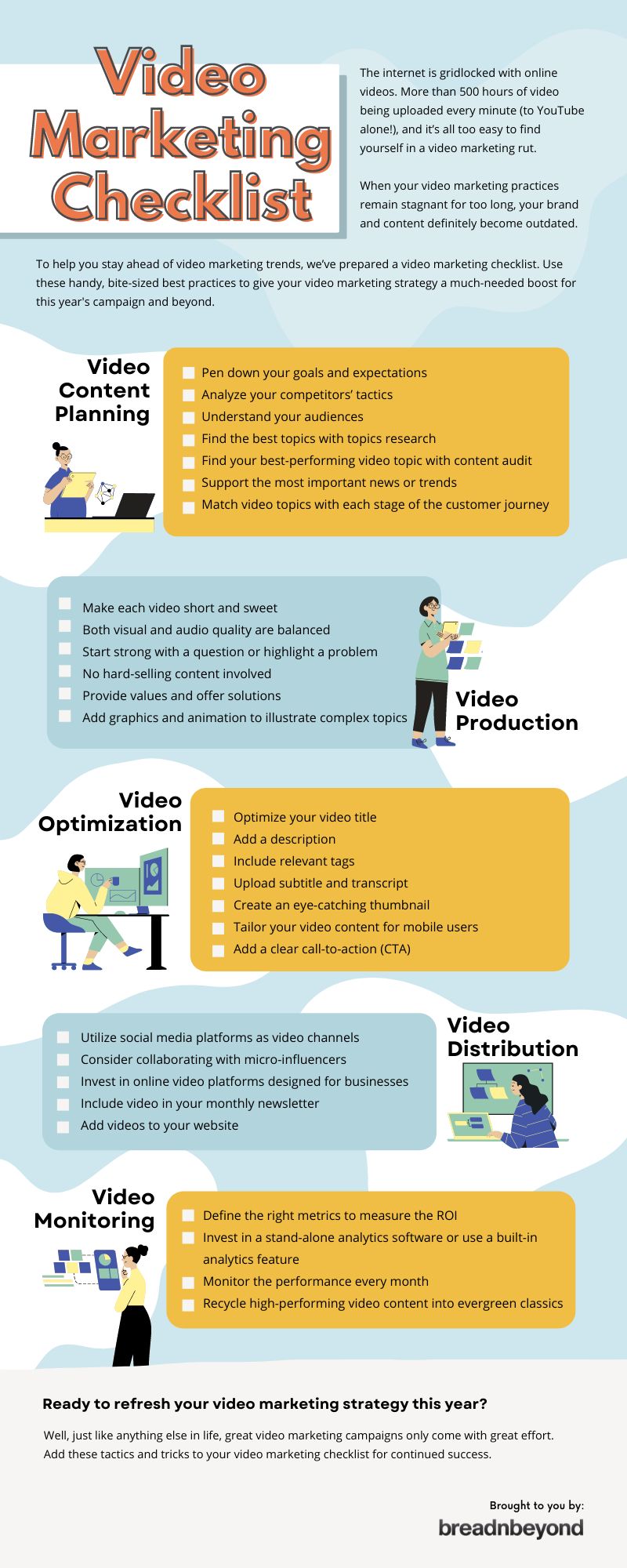 Courtesy of: Breadnbeyond
#4. Always Think Outside of the Box
There are many categories when it comes to motion graphics: 3d animation, 4d animation, kinetic typography, whiteboard, stop-motion – you name it. Those categories exist in different boxes, so why not mix them up and create an entirely new category yourself? For example, you can make a whiteboard-style character with 3d environments in your videos.
Bring out the creative artists in you, and you will find extraordinary inspiration for your next video projects. You can always find inspiration by browsing awesome animations on sharing platforms like Behance, YouTube, Vimeo, and other popular art-sharing sites.
YouTube Animation Channels References
Here are the top 11 animations channel on YouTube that you should subscribe to for animation tips and references:
If you're still learning to be an animator, there are free and paid courses on Coursera that you can take. You can also find animation tutorial videos on YouTube in a quick search.
Closing Thought
Motion graphics is a powerful visual tool to use in the era of digital marketing. Its versatility and flexibility, which are only limited to your creativity, can be leveraged into making something that stands out from millions of others. You don't have to be an animation expert to make one yourself because there are many free tools you can use these days.
However, if you're too busy running your business to even think about learning animations, feel free to contact us, and we can talk about making an explainer video to help your business convert more.
Author Bio

Andre Oentoro is the founder of Breadnbeyond, an award winning explainer video company. He helps businesses increase conversion rates, close more sales, and get positive ROI from explainer videos (in that order).

Twitter: @breadnbeyond
Email: [email protected]
LinkedIn: Andre Oentoro